Seasoned freelance video shooter

Director of Photography
Sachtler Video 18 tripod
Atomos Samurai ProRes Recorder
PC laptop for file transfers
Panasonic LH-900 LCD monitor
Basic lighting package
Basic grip package
Batteries & charger
Mileage: 55 miles included
Additional Equipment & Services:
Gaffer with 1-ton Van Package
Experienced gaffer available with a fully
equipped 1-ton lighting & grip package.
Why not let our gaffer take care of
the heavy lifting so your D.P. can
concentrate on making nice pictures.
Connecticut Gaffer & Grip Services

Sound recordist w/audio package
At Ctshooter, we make every part of our
expertise available to our clients. That
includes providing the same level of sound
recording capabilities to outside producers
we 're used to having for our own shoots.
If your needs are for an experienced sound
recordist in the Connecticut area,
visit this link for more information.

Teleprompter
12" AC/DC light weight prompter with PC laptop
running Flip-Q Pro software. Can be tripod or
stand mounted. Supplied with operator.
Picture of the prompter with camera

Doorway Dolly
Runs on PVC track. Rigged in just minutes, it
can make a static office or factory shot come
alive...with just a simple move.

Elemack Spyder Dolly
We can supply our Elemack Spyder dolly
for use with your own film or video camera
package. It makes for the perfect shooting
platform for the Red Epic or the Arri Alexa.
World famous for it's ability to fit in spaces
where other dollys cannot. Our Elemack can
be supplied with 100mm or 150mm Euroball
adapter, 32-wheel sled or floating wheels,
various seats, walk-around board, 32' of track.
Elemack Spyders are compact enough
to act as a tripod but offer true dolly abilities
when needed.
You can see some pictures at this link

Camera Jib Arm
Provides for a smooth, floating camera platform
that lends itself to many unique shooting
angles. Sits atop the Elemack Spyder dolly
or can be supplied with it's own heavy duty
tripod with wheels.

Steadicam
Kip Ross is a seasoned DP, gaffer and
also a Steadicam owner/operator.
The proper mix of professionalism and
passion. Kip's talents can enhance even the
most mundane camera shot. He can be
contacted at KipRoss.com or through us.




To simply production and help control costs
all shoots are done with this fine camera: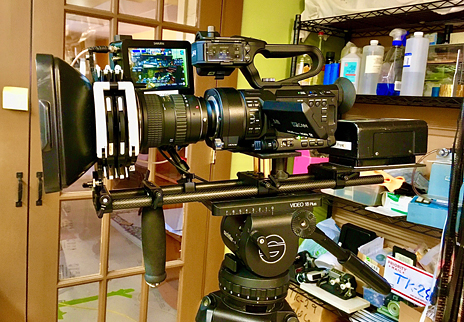 JVC GY-LS300 Camera Package:
Super 35 CMOS full frame sensor
4512 x 3008 pixels @ 13.5Mp
1080i | 1080p, 4:2:2, 2K and 4K resolution
Up to 150Mbps, .MOV recording
24p, 25p & 30p

J-Log Gamma | LUT Support

HD-SDI output for external ProRes recording
to supplied Atomos Samurai recorder
Lenses Supplied:
Tokina AT-X Pro 11-16mm
Nikkor-S 50mm
Canon FD 50mm
Minolta FD 35mm
Canon EF 35-80mm
Minolta 135mm
One man band day rate:
$850.00





Copyright © 2014 - 2021 TFG Film & Tape - All Rights Reserved

--------------------------------------------------------------